Object Model Browser Version 3
An enhanced object browser that shows a structured view of object libraries.
From a Review of Object Model Browser in
Microsoft Office & Visual Basic for Applications Developer
June 2000 issue.

Object Model Browser (version 2) is a sweet little utility
that will quickly replace the built-in VBE Object Browser
as the tool of choice for examining the object structure
of any library. This is a tool that a serious developer built
to make his own life easier, then decided to share with the rest of us.
You will be glad he did. (Reviewed by Lisa Z. Morgan)

For the complete review, click OMB Review
(The email in that review is no longer valid)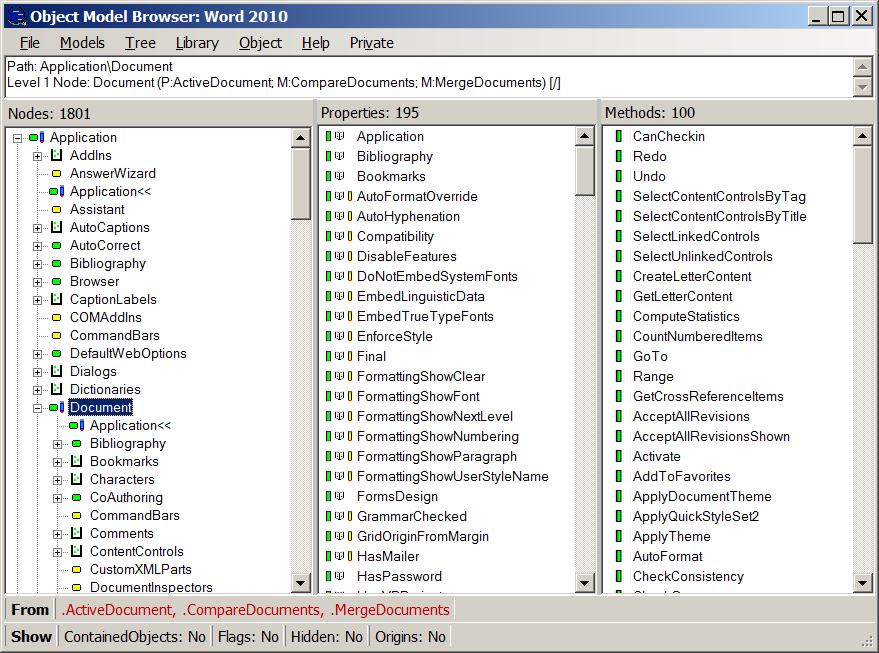 Object Model Browser is designed to provide structured views of an object or type library, displaying the parent-child relationship among the objects in the library in a tree-like form. In other words, unlike other object library viewers, Object Model Browser displays the object model for an object library. The figure above shows a portion of the object model for Microsoft Word 2010.
What's New for Version 3
Version 3 of OMB has been totally rewritten under the .NET framework. It has several improvements over the prior version. First, version 3 shows a more realistic view of object models with multiple top objects. Second, it does not require any user customization. (Version 2 has a Create Model Wizard, but this is not needed in Version 3.) Third, installation is now simply a matter of copying the files to your favorite folder and clicking on the EXE file.
Trial Version
A trial version of OMB is available for download here. It is fully functional but only works with the Microsoft PowerPoint object model.
Ordering Information
To purchase the full version of Object Model Browser for $59.95, just click on the PayPal link below.
Once we receive payment, we will e-mail you the full version.
Home